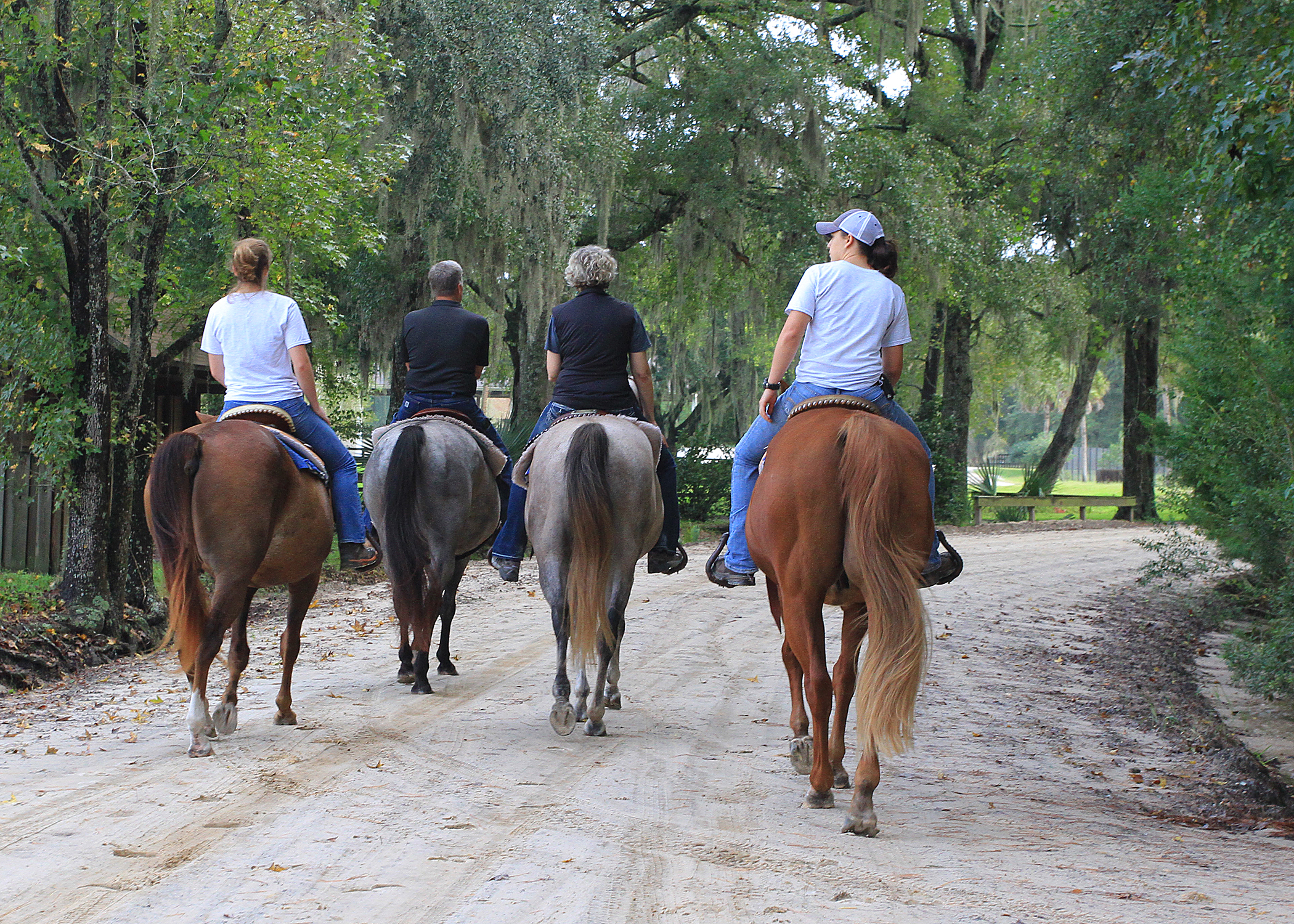 Have you ever wanted to experience White Oak from a different point of view? Sure, the tour vehicles are a nice way to get around here, but what about by horseback? We'll pack our saddle bags and you can enjoy exploring White Oak mounted on one of our seasoned guest horses.
Spend a few hours with our experienced guides as you ride through manicured trails, as well as pass by a number of endangered and threatened species. Take a break from your ride to have lunch, get up close and personal with one of our exotic species, then finish your visit with the remainder of your ride back to the Stable.
Schedule: Any day of the week  (must schedule 5 days in advance)
Length of Experience: Approximately 4 hours 9:30 am – 2:00 pm
Cost: $225 per person, 2 riders – $400
Includes: Approximately 3 hours of riding, basket lunch, animal experience (to be determined the day of) and digital copies of photos taken by the staff
Call 904 225 3396 Mon – Fri 8:00 am-4:00 pm, to book your experience today!
---
Requirements: Due to the risks of horseback riding, there are certain requirements set to help ensure a safer ride;
– Participants must sign a liability waiver to participate in this experience,
– Riders 16 years of age and under must wear a helmet, which will be provided.
– 4 guest maximum per ride.
– This is a walk-only ride.
– Closed toed shoes must be worn; long pants are recommended.
– For the safety of our animals, staff and guests, White Oak reserves the right to end the experience if participants do not follow instructions or guidelines.
– When booking your experience, please inform us of any physical limitations you might have so we can plan to accommodate.
---
Cancellation and refund policies: Guests may cancel reservations and receive a full refund or credit for future use 7 days or more prior to a scheduled experience. Refunds are not given if cancellations are made 6 days or less prior to an experience. Guests may receive a credit for a future experience if they cancel a reservation up to three days prior to the scheduled experience.
White Oak may cancel an experience if inclement weather is expected; if poor road conditions are anticipated; or if the appropriate horses unexpectedly become unavailable. All efforts will be made to announce cancellations 24 hours before an experiences start time. We make every effort to reschedule experiences prior to predicted inclement weather, however north Florida can experience unpredictable daily weather and we cannot offer refunds for experiences affected by weather. If White Oak cancels an experience, guests will be given credit in the amount of the ticket purchase towards a future experience.