Elephants arrive at White Oak Conservation in Florida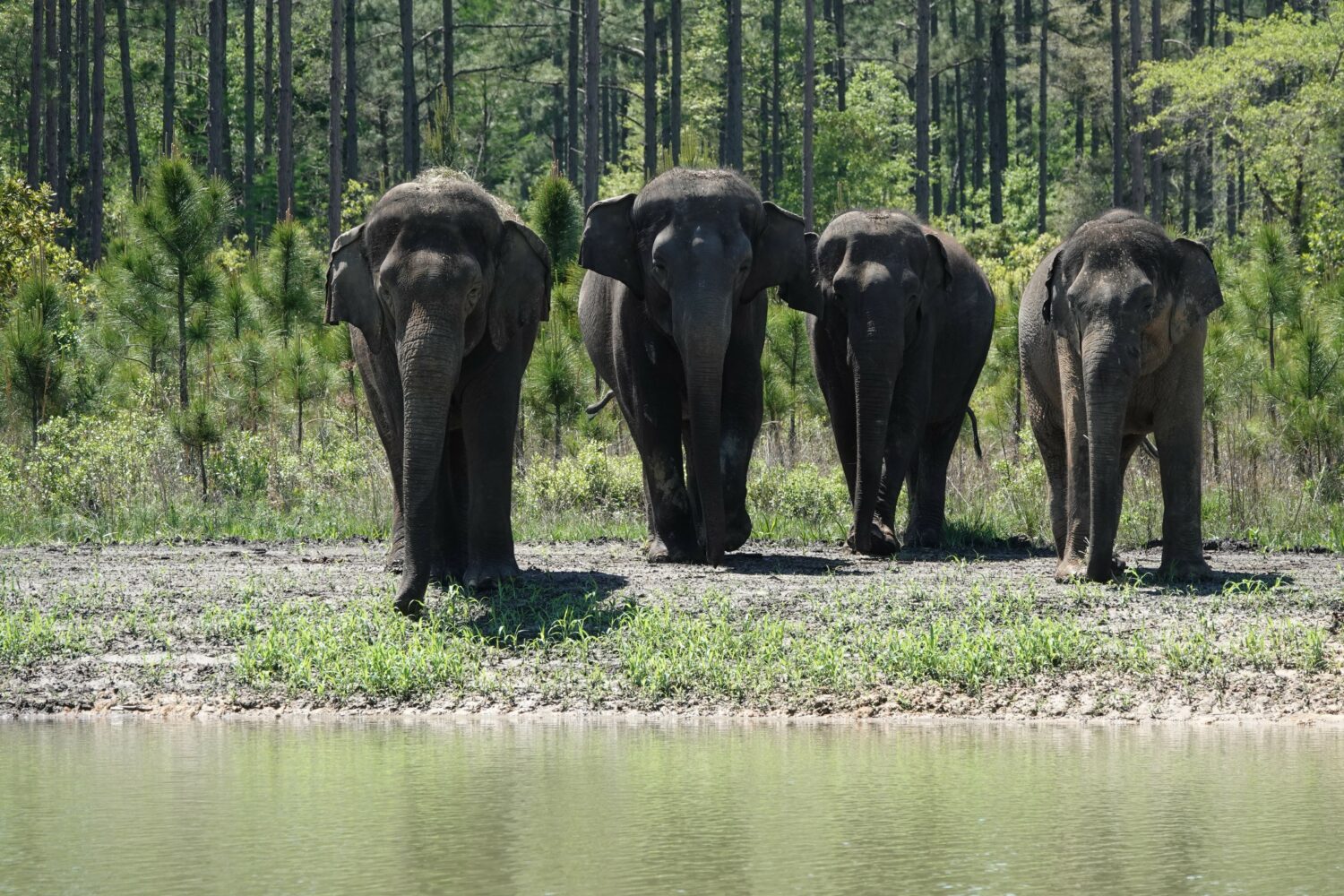 Former performing elephants released into custom habitat
May 3, 2021 (YULEE, Fla.) — The first herd of Asian elephants has arrived safely in their new forest habitat at White Oak Conservation, a refuge for rare species funded by philanthropists Mark and Kimbra Walter. They will be joined by up to 20 more retired performing elephants as soon as additional areas are completed.
"We are thrilled to give these elephants a place to wander and explore," said Mark and Kimbra Walter. "We are working to protect wild animals in their native habitats. But for these elephants that can't be released, we are pleased to give them a place where they can live comfortably for the rest of their lives."
To get to White Oak, the elephants were moved 200 miles in pairs in customized trucks. Throughout the journey, the elephants were accompanied by their veterinarians and animal care specialists.
Upon arrival, they were released into two large paddocks to acclimate, adjacent to a specially designed, climate-controlled barn where veterinarians and specialists monitored their health and well-being. The elephants have now ventured out of the paddocks into pine forests with ponds, wetlands, and open grasslands.
White Oak Conservation continues to conduct limited scheduled tours due to the pandemic, but visitors cannot currently visit the elephants while they acclimate and construction of additional habitats continues.
The area the elephants now inhabit is large enough that the elephants have various habitats and food species available. They can choose to stay near the barn and their human caregivers, or wander in the woods, wallow in the mud, and swim in the pond.
White Oak Conservation's philosophy is to accommodate animals' natural behavior and social bonds as closely as possible so family groups will be together.
This elephant group has been socialized together for the past several months and includes two sets of full sisters and numerous half-sisters
Nick Newby, who leads White Oak's expert team recruited to care for the elephants, has been getting to know the individual elephants and their habits for the past few years.
"Watching the elephants go out into the habitat was an incredible moment," Newby said. "I was so happy to see them come out together and reassure and comfort each other, just like wild elephants do, and then head out to explore their new environment. Seeing the elephants swim for the first time was amazing."
"Elephants are such amazing creatures, and we are pleased to give them a place where they will flourish," said Michelle Gadd, who oversees the Walters' conservation efforts. "It's been fascinating to see the elephants take their first steps into this beautiful natural space. We are excited to watch them adapt to the great outdoors, tasting new plants, exploring new areas, experiencing new things."
Asian elephants are endangered in the wild. Only 30,000 to 50,000 elephants remain in the wild in less than 15% of their historic range. Where they do survive, they are threatened by habitat degradation and fragmentation, conflict with humans, and poaching.
"In the last few years, everything has changed for these elephants for the better — from their retirement to the way they interact with humans and the space they have to roam," said Steve Shurter, White Oak's executive director. "For the first time in their lives, these elephants can choose where and how they want to spend their days."
About Walter Conservation
Philanthropists Mark and Kimbra Walter and their family created Walter Conservation to conserve rare species and wild places. Efforts include improving the quality of life of individual animals, recovering rare species, restoring ecosystems, and protecting wilderness areas. Thus far, their philanthropy supports important areas in North America and Africa. The Walter Conservation approach is to provide wildlife security and management, to collaborate with local residents and host-country governments, and to invest in sustainable enterprises.
About White Oak Conservation
White Oak Conservation is Walter Conservation's one-of-a-kind center in northeastern Florida, established in 1982 for the conservation and propagation of threatened and endangered species. With Mark and Kimbra Walter's support, White Oak has expanded to 17,000 acres dedicated to the conservation and care of assurance populations for species including rhinoceros, okapi, bongos, Dama gazelles, cheetahs, and now, elephants.
In the United States, White Oak partners with the U.S. Fish and Wildlife Service on species recovery and release efforts for Florida panthers, Florida grasshopper sparrows, Mississippi sandhill cranes, and whooping cranes. White Oak has also returned American-born bongo, black rhino, and roan to Africa, and is working toward restoring other rare species to their native countries.
Through White Oak, Walter Conservation is eager to bring education and awareness to the next generation of conservationists using its world-class education and training programs, in-person and remotely. In 2019, more than 1,600 students visited White Oak and participated in education programming.
Media Contact:
Melissa Harris