A Day in the Life of a Veterinary Technician Intern
Have you ever wondered what it would be like to be a veterinary technician… for cheetahs? Or rhinos? No, those are not the animals you see at your every day animal clinic. Unless, of course, it is at the animal clinic at White Oak. Meet Corinne Gentile, LVT, who has been the Veterinary Technician Intern for the last six months here at White Oak. Corrine was kind enough to put pen to paper (or fingers to keyboard) to share her experiences working with the animals (and the people) that call White Oak home. Enjoy.
Sometimes I have to just stop and think about the magnitude of the position that I am in. It is beyond recognition being able to work every day with a multitude of endangered exotic species while obtaining invaluable experience to further my career goal of becoming a zoo veterinary technician.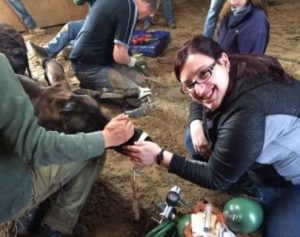 Let's start from the beginning, when I stumbled upon this internship listing. I knew it would be an incredible opportunity for me so I spent a couple of years building upon my small animal medicine skills, ensuring I would be ready to apply that knowledge to larger exotic animals. When the time was right, I filled out the application, sent it in, and anxiously awaited a response. After what seemed like an eternity, I had an interview and then received the email of acceptance for the position shortly after. I couldn't believe it. I was off to Florida for six months of career building, training and knowledge.
My first week I was working with Cheetah cubs and Rhinos.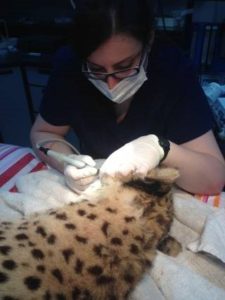 Just being able to take part in the procedures was incredible. Soon after learning my responsibilities and internship role at White Oak, I realized just how important this program was.
My first exciting, and somewhat nerve-racking, moment was a hoofstock immobilization for an annual exam, including bloodwork and treatments. The morning of the immobilization, the rest of the vet staff and I met for our daily morning meeting to discuss the proceedings for that day. I began prepping for the field procedure, and for the first time, I packed up the vet truck with supplies.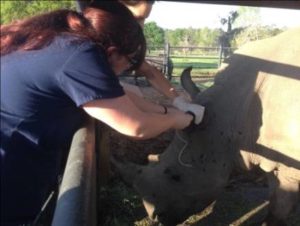 Driving over to the corrals, I felt the nerves and excitement building. We met up with the keepers and I listened intently as they described how we were going to proceed. It was incredible seeing the organization of steps to make everything run smoothly. Working as one well-oiled machine, everyone stepped in and did what was needed. When it was all over and the animal was safely awake, I took a moment to reflect on how incredible it all was. I knew I would gain much more hands-on experience as I went along; experience that I could probably not get elsewhere.
Being able to play such a significant role in the health and safety of the animal was such an indescribable feeling. Knowing the amount of responsibility and trust that the staff instilled in me is beyond what I ever expected. Never in my wildest dreams did I think I would get the level of hands-on experience and knowledge that I did from my six months during the White Oak Vet Tech internship. The experience that I have gained from this internship has been beyond anything I could have hoped for.
Corinne Gentile – LVT, Veterinary Technician Intern, January 2016 – July 2016